Registration coming soon.
MEETING DATES - March 11-15, 2019
HOTEL RESERVATIONS - Reservations at the Embassy Suites, Savannah, Georgia can be made ONLINE or by calling The Embassy Suites (912) 721-6900 (be sure to mention group name – International Fluid Power Society to secure the group discount.) Reservations must be made by February 11, 2019 to secure the group discount. The hotel is approximately 15 miles from the Savannah/Hilton Head International Airport. Taxi is approximately $35.00 each way. 
SCHEDULE (subject to change) TECHNICAL WORKSHOP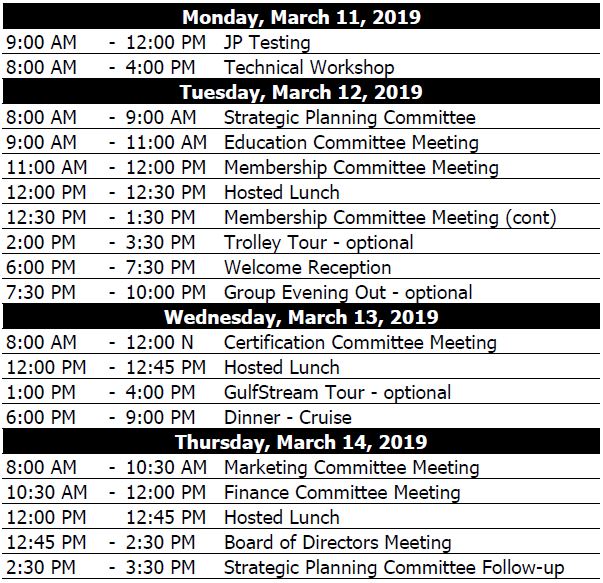 TECHNICAL WORKSHOP
"To Cv or Not to Cv"
Monday, March 11, 2019
Presented by Jon Jensen, CFPAI, SMC Corporation of America and Thomas Blansett, CFPAI, IFPS Technical Director
8:00 a.m. - 4:00 p.m.
Registration: $150.00 (lunch included)
The focus of this workshop will be sizing pneumatic valves using ISO 6538:1989 - rating valve performance.  Exploration of sizing with ANSI standards using Cv versus sizing using sonic conductance and b-values following ISO standards (widely adopted throughout the world, except the US,) since it is a more accurate predictor of valve performance, and looking at high- speed operations and the effects of moisture in the lines. Risk management for high-speed pneumatic systems will be discussed along with ISO 6538:1989 Machinery Safety which will be addressed with discussion of the Machinery Directive as per ISO-12100, and Safety Related Parts of Control Systems as per ISO-13849.